Ottawa, ON June 29, 2023 – Stria Lithium Inc., an emerging resource exploration company developing Canadian lithium reserves to meet legislated demand for electric vehicles and their rechargeable lithium-ion batteries, is pleased to announce the results of tantalum oxide grain counts survey over part of its recently acquired Pontax-II project. Heavy mineral concentrates from 38 glacial till samples collected in 2019 for the purpose of gold grain counting were reprocessed to evaluate the abundance of tantalum oxide grains with the use of an automated scanning microscope based on a proprietary technology by IOS Services Géoscientifiques Inc.
Tantalum oxides (tantalite, columbotantalite, wodginite and micronite) are a class of mineral that almost exclusively form in lithium bearing pegmatite (or LCT pegmatite), such as those currently being evaluated at the nearby Pontax-Central occurrence (Stria Lithium under option by Cygnus (Avenir) Metals), as well as the James Bay Lithium project (formerly Cyr Lithium by Allken Mining), the Rose project (Critical Element Lithium Corporation) or the Wabouchi mine (Némaska Lithium). Of these samples, a total of 5950 tantalum oxide grains were observed, for an average of 156 grains per samples. As a comparative basis, a regional survey in the same area conducted by the Ministère de l'Énergie et des Ressources Naturelles du Québec, processed using the same technology, yielded an average count of 36 grains per samples, meaning the average sample from Pontax-II stands at the 97.6 centile of the regional population. Samples from Pontax includes tantalum oxide counts up to 797 grains, the highest count ever recorded by the laboratory. The high counts samples are clustered into two distinct kilometer-scale groups (figure 1), suggestive of two distinct sources. As these counts are not down-ice from the Pontax-Lithium occurrence, originating from this occurrence is ruled-out. As per comparison, somewhat smaller isolated counts from the MERNQ survey were at the origin of Li-FT Power' Pontax and Rupert project, where the relation between tantalum dispersion and lithium sources was confirmed (figure 2). Similarly, an orientation till survey conducted at Stria's Pontax-Lithium occurrence by Cygnus Metal highlighted a dispersion of similar size and intensity directly adjacent to the deposit of what is reported here.
Dean Hanisch, CEO of Stria Lithium, said today: "These results caught us by surprise, since we basically demonstrated the potential of the property to host fertile pegmatite occurrence within months of its acquisition! If you look at the map of the overall till samples of the region in relation to our numbers and then you match that with the similar footprint at Pontax Central that was drill tested, it's really exciting. We are anxious to send a team of geologists to conduct a prospect as soon as the forest fire situation allows us. We feel very fortunate to lean on the proprietary technology developed by IOS and their years of experience in this region. This scanning electron machine is the only one of its kind in the world and is invaluable in making calculated decisions that save time and money."
Figure 1: Tantalite Grain counts Pontax II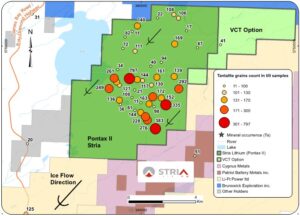 Figure 2: Tantalite Grain counts immediate region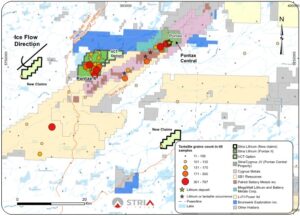 Figure 3: Tantalite Grain counts in the region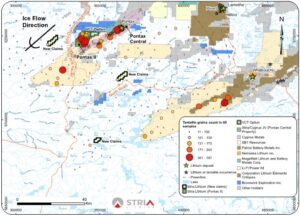 About Stria Lithium
Stria Lithium (TSX-V: SRA) is an emerging resource exploration company developing Canadian lithium reserves in the Eeyou Istchee James Bay Territory of Québec, Canada, to meet legislated demand for electric vehicles and their rechargeable lithium-ion batteries.
Lithium is a rare metal and an indispensable component of rechargeable lithium-ion batteries, one of the safest and most efficient energy storage technologies available today, used in everything from cell phones and power tools to electric cars and industrial-scale energy storage for renewable power sources such as wind and solar generation.
Stria's Central Pontax Lithium project covers 36 square kilometres, including 8 kilometres of strike along the prospective Chambois Greenstone Belt. Stria's Pontax II lithium project is due south east to Pontax Central. These 104 individual claims totalling 5535 hectares (55 square kilometres) are on strike with stria's existing Pontax Central project along the prospective Chambois Greenstone belt hosting spodumene bearing pegmatites. These key newly acquired adjacent VCT claims add to the land position of Pontax II and pave the way for uniformed exploration work to begin during July 2023.
The Eeyou Istchee James Bay Territory of Québec is one of only a few known sources of lithium available for hard rock mining in North America. All of Stria's properties in the region are situated close to an industrial powerline and a major paved highway that connects the northern region with the industrial and urban centres to the south.
As momentum builds for the green energy revolution and the shift to electric vehicles, governments in Canada and the U.S. are aggressively supporting the North American lithium industry, presenting the industry and its investors with a rare, if not unprecedented, opportunity for growth and prosperity well into the next decade and beyond.
Cygnus Metals is committed to fully funding and managing the current two-stage exploration and drilling program to a maximum of $10 million at Stria's Central Pontax Property, and will also pay Stria up to $6 million in cash. In return, Cygnus Metals may acquire up to a 70% interest in the Pontax Central Property.
Stria can acquire 100% ownership of VCT any time as per details of the agreement above.
Stria is committed to exceeding the industry's environmental, social and governance standards. A critical part of that commitment is forging meaningful, enduring and mutually beneficial relationships with the James Bay Cree Nation (Eeyouch), and engaging openly and respectfully as neighbours and collaborators in this exciting project that has the potential to create lasting jobs and prosperity for Eeyou Istchee and its people.
The technical content disclosed in the current press release was reviewed and approved by Réjean Girard, P.Geo and president of IOS Services Geoscientifiques Inc, a qualified person as defined under National Instrument NI-43-101.
For more information about Stria Lithium and the Pontax Lithium project, please visit https://strialithium.com
Follow us on:
• Twitter @StriaLithium
• Instagram @strialithium
• Facebook http://www.facebook.com/strialithium
• LinkedIn http://www.linkedin.com/company/stria-lithium/
For more information on Stria Lithium Inc., please contact:
Dean Hanisch
CEO Stria Lithium
dhanisch@strialithium.com
+1(613) 612-6060
Investors Relations, Stria Lithium Inc.
ir@strialithium.com
Neither TSX Venture Exchange nor its Regulation Services Provider (as that term is defined in the policies of the TSX Venture Exchange) accepts responsibility for the accuracy or adequacy of this release.
Cautionary Note Regarding Forward-Looking Information
Except for statements of historical fact, this news release contains certain "forward-looking information" within the meaning of applicable securities law. Forward-looking information is frequently characterized by words such as "plan", "expect", "project", "intend", "believe", "anticipate", "estimate" and other similar words, or statements that certain events or conditions "may" or "will" occur. Although we believe that the expectations reflected in the forward-looking information are reasonable, there can be no assurance that such expectations will prove to be correct. We cannot guarantee future results, performance or achievements. Consequently, there is no representation that the actual results achieved will be the same, in whole or in part, as those set out in the forward-looking information.
Forward-looking information is based on the opinions and estimates of management at the date the statements are made and are subject to a variety of risks and uncertainties and other factors that could cause actual events or results to differ materially from those anticipated in the forward-looking information. Please refer to the risk factors disclosed under our profile on SEDAR at www.sedar.com. Readers are cautioned that this list of risk factors should not be construed as exhaustive.
The forward-looking information contained in this news release is expressly qualified by this cautionary statement. We undertake no duty to update any of the forward-looking information to conform such information to actual results or to changes in our expectations except as otherwise required by applicable securities legislation. Readers are cautioned not to place undue reliance on forward-looking information.