Stria Lithium, Inc. (TSX.V: SRA)
Ottawa, ON April 24, 2023 – Stria Lithium Inc., an emerging resource exploration company developing Canadian lithium reserves to meet legislated demand for electric vehicles and their rechargeable lithium-ion batteries, is pleased to announce the best result to date from the winter drilling program at its the Pontax Lithium Project in the Eeyou Istchee James Bay Territory of Québec, Canada.
The latest assays from seven holes include up to 9.27m (true width) at 1.86% Li2O at a depth of 298m on hole 975-23-040, the best result to date from the winter drilling program and one of the top intercepts in the entire project. The completion of the drilling program paves the way for a Maiden Resource in 2023.
The results confirm the potentiality of the deposit to host significantly wide and rich spodumene dykes at depth. The seven holes cited in this release, drilled in February, are mostly collared to the north-west of the deposit, drilling south-east under the previous holes. The winter drill program completed in early April totalled 32 holes and 9,614 metres, and there are now in excess of 1,400 samples awaiting assays expected to be completed in June 2023.
The drilling program at Stria's Pontax property is being financed and conducted by Stria's project partner, Cygnus Metals Ltd. of Australia, and has been designed to systematically step out from the known mineralisation at Pontax Central – an extensive spodumene-bearing pegmatite swarm which outcrops over 700m of strike.
The most significant intersection results from each of the current drill holes include:
DDH975-22-030: 1.83 m (true width*) @ 0.85% Li2O** from 216.6 m to 219.3m. core length
DDH975-22-035: No significant results
DDH975-22-036: 1.44 m (true width*) @ 1.28% Li2O** from 488.35 m to 490.05 m core length
DDH975-22-037: 1.47 m (true width*) @ 1.24% Li2O** from 180.2 m to 182.2 m core length
DDH975-22-038: No significant results
DDH975-22-039: 1.96 m (true width*) @ 1.22% Li2O** from 235.55 m to 238.15 m core length
DDH975-22-040: 9.27 m (true width*) @ 1.86% Li2O** from 367.75 m to 379.55m core length
*: True thickness, according to the dyke dip and drill hole plunge at the loci of the intersection.
**: Weighted average using a cut-off grade of 0.5% Li2O, excluding lithium bearing wallrock (FeO > 5%), a minimum true thickness of 1 metre, no external dilution, and wallrock internal dilution set at 0% Li2O.
***: Interval calculations according to criteria used in previous Stria' communication, These calculations are based on different parameters than those used in Cygnus Metals' press release, dated March 27th 2023, leading to minor differences on intervals lengths and grades.
One hole DDH975-23-030 assayed at 5409 ppm tantalum (0.66% Ta2O5) over 30 centimetres. Coltan, a tantalum oxide, is a common and highly valuable by-product mineral found in spodumene-bearing pegmatite dykes. However, evaluating its abundance in pegmatite is difficult due to its extreme heterogeneous (nuggety) distribution. A total of 10 samples exceeded the cut-off grade of 200 ppm Ta.
Dean Hanisch, CEO of Stria Lithium, said today: "We are very pleased with these initial results as they clearly demonstrate the potential for significant mineralization at depth. The results are consistent with these types of pegmatite dyke swarms in the region, and we look forward to receiving further assays from the winter program."
Drilling was conducted by RJLL Drilling Inc. from Rouyn-Noranda using three skid-mounted drill rigs, and was supervised by IOS Services Geoscientifiques Inc. Collar locations were measured with a sub-metre precision GPS device, while downhole deviation was measured with the use of a Reflex device. Core, NQ in diameter, has been logged on site and expedited by road carrier to IOS facilities in Saguenay for sampling and storage. Core samples were cut in half with a diamond saw, tagged and bagged to be shipped to the SGS Lakefield laboratory by road carrier for preparation. The current release includes a total of 722 core samples which were crushed (75% <2mm) and pulverized (85% <75μm). Assaying has been conducted by SGS Burnaby with the use of ICP-OES and ICP-MS after sodium peroxide fusion (GE_ICM90A50). SGS-Canada is a ISO/IEC 17025 accredited laboratory. Quality control has been monitored by an IOS-certified chemist through the insersion of 26 sample blanks, 23 preparation blanks, 18 certified reference material Oreas-147, 17 certified reference material Oreas-148 and 16 certified reference material Orea-149, for a total of 100 insertions (14%).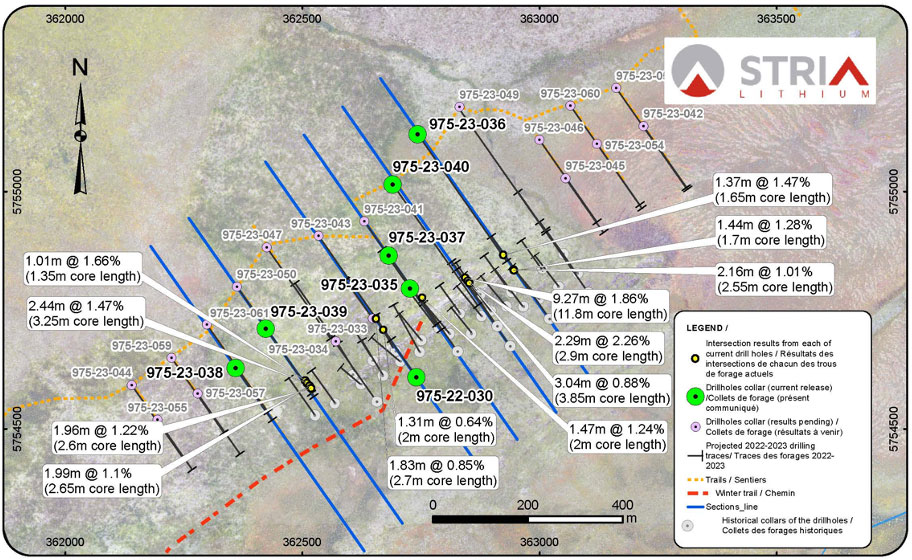 About Stria Lithium
Stria Lithium (TSX-V: SRA) is an emerging resource exploration company developing Canadian lithium reserves to meet legislated demand for electric vehicles and their rechargeable lithium-ion batteries.
Lithium is a rare metal and an indispensable component of rechargeable lithium-ion batteries, one of the safest and most efficient energy storage technologies available today, used in everything from cellphones and power tools to electric cars and industrial-scale energy storage for renewable power sources such as wind and solar generation.
Stria's Pontax Lithium Project covers 36 square kilometres, including 8 kilometres of strike along the prospective Chambois Greenstone Belt. The region, known as the Canadian "Lithium Triangle," is one of only a few known sources of lithium available for hard rock mining in North America.
Stria's Pontax property is situated close to an industrial powerline and a major paved highway, about 310 km north of the North American rail network that leads to the industrial heartland.
As momentum builds for the green energy revolution and the shift to electric vehicles, governments in Canada and the U.S. are aggressively supporting the North American lithium industry, presenting the industry and its investors with a rare, if not unprecedented, opportunity for growth and prosperity well into the next decade and beyond.
Cygnus Metals is committed to fully funding and managing the current two-stage exploration and drilling program to a maximum of $10 million at Stria's Pontax property, and will also pay Stria up to $6 million in cash. In return, Cygnus may acquire up to a 70% interest in the property.
Stria is committed to exceeding the industry's environmental, social and governance standards. A critical part of that commitment is forging meaningful, enduring and mutually beneficial relationships with the James Bay Cree Nation (Eeyouch), and engaging openly and respectfully as neighbours and collaborators in this exciting project that has the potential to create lasting jobs and prosperity for Eeyou Istchee and its people.
The technical content disclosed in the current press release was reviewed and approved by Réjean Girard, P.Geo and president of IOS Services Geoscientifiques Inc, a qualified person as defined under National Instrument NI-43-101.
For more information about Stria Lithium and the Pontax Lithium project, please visit https://strialithium.com
Follow us on:
For more information on Stria Lithium Inc., please contact:
Dean Hanisch
CEO Stria Lithium
dhanisch@strialithium.com
+1(613) 612-6060
Investors Relations, Stria Lithium Inc.
ir@strialithium.com
Neither TSX Venture Exchange nor its Regulation Services Provider (as that term is defined in the policies of the TSX Venture Exchange) accepts responsibility for the accuracy or adequacy of this release.
Cautionary Note Regarding Forward-Looking Information
Except for statements of historical fact, this news release contains certain "forward-looking information" within the meaning of applicable securities law. Forward-looking information is frequently characterized by words such as "plan", "expect", "project", "intend", "believe", "anticipate", "estimate" and other similar words, or statements that certain events or conditions "may" or "will" occur. Although we believe that the expectations reflected in the forward-looking information are reasonable, there can be no assurance that such expectations will prove to be correct. We cannot guarantee future results, performance or achievements. Consequently, there is no representation that the actual results achieved will be the same, in whole or in part, as those set out in the forward-looking information.
Forward-looking information is based on the opinions and estimates of management at the date the statements are made and are subject to a variety of risks and uncertainties and other factors that could cause actual events or results to differ materially from those anticipated in the forward-looking information. Please refer to the risk factors disclosed under our profile on SEDAR at www.sedar.com. Readers are cautioned that this list of risk factors should not be construed as exhaustive.
The forward-looking information contained in this news release is expressly qualified by this cautionary statement. We undertake no duty to update any of the forward-looking information to conform such information to actual results or to changes in our expectations except as otherwise required by applicable securities legislation. Readers are cautioned not to place undue reliance on forward-looking information.