[stock_ticker symbols="SRA.V" show="symbol" zero="#454545″ minus="#D8442F" plus="#009D59″]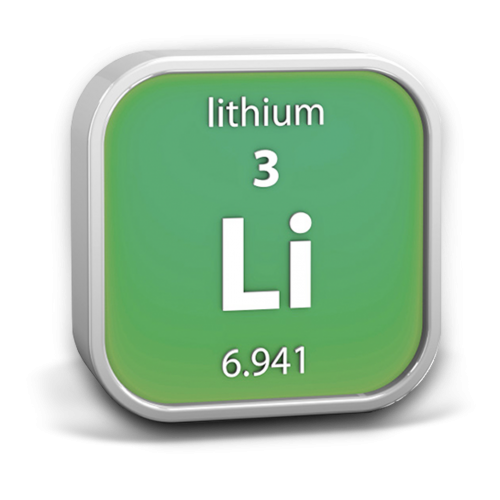 Early history
The first lithium mineral petalite, LiAlSi4O10, was discovered on the Swedish island of Utö by the Brazilian, Jozé Bonifácio de Andralda e Silva in the 1790s. It was observed to give an intense crimson flame when thrown onto a fire.
In 1817, Johan August Arfvedson of Stockholm analysed it and deduced it contained a previously unknown metal, which he called lithium.
He realized this was a new alkali metal and a lighter version of sodium. However, unlike sodium he was not able to separate it by electrolysis.
In 1821, William Brande obtained a tiny amount this way, but not enough on which to take measurements.
It was not until 1855 that German chemist Robert Bunsen and British chemist Augustus Matthiessen obtained it in bulk by the electrolysis of molten lithium chloride.
(Source: Royal Society of Chemistry and lithiuminvestingnews.com)
[list style="2″ image="2325″]✓ Lithium (symbol Li) is an alkali metal element, with atomic number 3 and 6.94 atomic weight
[/list][list style="2″ image="2326″]✓ Lithium was discovered in 1817 by J.A.R. Arfvedson in Stockholm, Sweden.[/list][list style="2″ image="2327″]✓ Lithium is a metal with the lowest density.[/list][list style="2″ image="2328″]✓ Lithium carbonate therapy has become standard treatment for manic depression, although its action on the brain is still not fully understood.
(Source: Royal Society of Chemistry)[/list]
[list style="2″ image="2337″]✓ Lithium has a high electrochemical potential, so is one of the most widely used battery anode materials.[/list][list style="2″ image="2332″]✓ Lithium's name is derived from the Greek word "lithos," meaning stone.[/list][list style="2″ image="2343″]✓ Lithium is also used in special glasses and ceramics.[/list][list style="2″ image="2334″]✓ Lithium has the highest specific heat capacity of any solid element, and is therefore used in many heat transfer applications. However, it is corrosive and requires special handling.[/list]
[list style="2″ image="2339″]✓ Lithium stearate is used as an all-purpose and high-temperature lubricating grease.[/list][list style="2″ image="2336″]✓ Lithium is used as an alloying agent, in the synthesis of organic compounds, and has applications in the nuclear industry.[/list][list icon="icon-leaf" style="2″ image="2330″]✓ Lithium chloride is one of the most hygroscopic materials known, and is used in air conditioning and industrial drying systems (as is lithium bromide).[/list]
[list style="2″ image="2341″]✓ Lithium has no known natural biological role. It is non-toxic, teratogenic, stimulatory and an anti-depressant.[/list][list style="2″ image="2345″]✓ Lithium does not occur as the metal in nature, but is found combined in small amounts of nearly all igneous rocks and in the waters of many mineral springs. Spodumene is the most widely used lithium mineral because of its high lithium content and occurrence. Other minerals such as Lepidolite, petalite and amblygonite are also used commercially but are less common and have lower lithium content.[/list]
Lubricant Grease
Because lithium helps lubricants adhere well to metal, are highly water soluble and offer consistent properties over a range of temperatures. While lithium carbonate can be used in the production of greases, most lithium grease uses lithium hydroxide.
Energy Storage
Especially for batteries, because of the greater charge-to-density (power-to-weight) ratio of lithium is favorable for electronic devices. Li-ion batteries are used in electronic devices such as cellphones, portable computers and tablets and electric vehicles. Lithium is also used in electric grid applications.
Metallurgy
Because lithium used as brazing and welding fluxes reduce the melting temperature and surface tension of steel alloys. Compounds such as lithium carbonate, chloride and fluoride, and lithium metal are used to degasify and clean a number of metals, including aluminum, copper and bronze, improving improving their electrical conductivity in the process.
Aluminum
Because lithium lowers the melting temperature of the molten electrolyte and increases the cell's electrical conductivity. This helps decrease processing costs.  Lithium carbonate is used in the aluminum industry during processing. Lithium may also be used to produce an aluminum-lithium alloy, adding strength to aluminum.
Glass & Ceramics
Because of its ability to decrease the viscosity and melting temperature of glass. Lithium minerals, most often spudomene, are used for most glass products — from bottles to headlights — and in ceramics to produce glazes and porcelain enamels. Lithium carbonate can be used in some glass applications, such as TV tubes, and is also used for ceramics, though petalite mineral is usually preferred. Lepidolite, which is in short supply, is also desirable for certain ceramic applications.
Air Conditioners
Because lithium compounds such as bromide and chloride have high water absorbing ability. Lithium bromide and lithium chloride can also be used in dehumidification applications.
Lithium Today: A critical Material
Lithium is considered a key, strategic material in the clean technology economy that is being fuelled by advances in electric vehicles, energy storage and electronics.
The U.S. Department of Energy has identified lithium as a critical material whose demand is forecast to grow dramatically in the medium term, with rechargeable lithium batteries leading the way.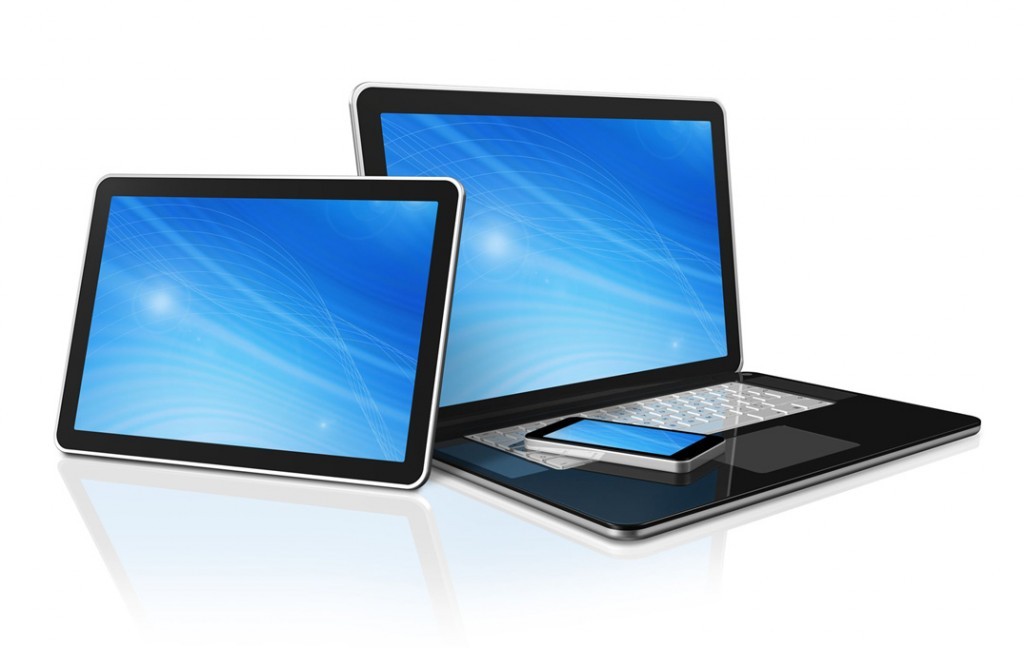 Clean energy demand
The lithium demand for batteries is expected to increase significantly as demand for plug-in hybrid electric and all-electric vehicles grows.
Demand today for rechargeable lithium batteries already exceeds that of rechargeable non-lithium batteries for use in cellphones, cordless tools, MP3 players and portable computers and tablets, according to the US Geological Survey.
Major automobile companies are scrambling to develop lithium batteries for electric vehicles and hybrid-electric vehicles. According to the U.S. Energy Department's Critical Materials Strategy, in the medium term, Li-ion batteries may gain significant market share, especially in hybrid-electric vehicles, as more carmakers switch over from nickel-metal hydride batteries.
Batteries could also be important to the successful integration of renewable electricity technologies in the context of Smart Grid development.
Non-rechargeable lithium batteries are used in calculators, cameras, computers, electronic games, watches, and other devices
Lithium demand and production
The United States was the largest producer and consumer of lithium minerals and compounds in the world in the early 1990s. With a budding clean energy economy at least a decade away, it was during this period that the U.S. Department of Energy decided to sell about 37,200 tonnes of excess lithium material from the thermonuclear weapons programs of the 1950s and 1960s (that's about the same amount of lithium produced in the entire world in 2012).
North America's supply and production of lithium took a dive in 1996-1997, when Sociedad Quimica y Minera (SQM) of Chile, currently the industry's largest global producer, entered the lithium market with a lower-cost continental brine supply. Lithium carbonate prices fell 27 per cent in one fell swoop, hurting the company's hard- rock spodumene competition around the globe.
By the time a second brine operation in Chile completed its full year in 1997, prices dropped another 15 per cent. Unable to compete, the last spodumene mine in the U.S. was closed in 1997, bringing to an end that country's lithium carbonate production from hard-rock ores.
Since then, subsurface brines remain the leading raw material for lithium carbonate production worldwide, mainly because of the lower cost of production. The majority of the lithium mined from brines in South America is a byproduct used in grease and ovenware, not the clean tech economy.
But with growing spodumene demand from China in the last several years, mineral-sourced lithium has gained market share on brine-sourced lithium, with Australia leading the way, according to the US Geological Survey.
Such is the demand that lithium minerals are now being used directly as ore concentrates in ceramics and glass applications worldwide and, increasingly, as feedstock for lithium carbonate and other lithium compounds in China.
Demand for lithium grew at an average of 7.2 per cent from 2001 to 2008, picking up steam in 2010 after slowing down during the recession and jumping 10 per cent in 2012. Analysts forecast that demand for mobile devices alone in developed markets will grow about 7.8 per cent between now and 2016, but is expected to grow an average of 17 per cent year-over-year during that same period in emerging markets. Depending on the watt-hour rating, a mobile device usually carries between eight and 25 grams of lithium.
As more lithium shifts to the growing clean tech economy and supplies tighten, demand for all grades of lithium is expected to rise, along with prices, continuing a steady trend that began in 2005-2006.
Lithium sources
There is no shortage of lithium in the world. But few of the world's lithium deposits are of commercial value.
Lithium, which does not naturally occur in elemental form due to its high reactivity, is mined from brines, pegmatites — also known as "hard-rock" deposits — and sedimentary rocks, with the first two the main sources for commercial lithium production today.
While hard-rock lithium production once dominated the market, the majority of lithium carbonate is now produced from continental brines in South America, primarily due to the lower cost of production.
Brine deposits represent about 66 per cent of global lithium resources and are found mainly in the salt flats of Chile, Argentina, China and Tibet.
Pegmatite deposits account for about 26 per cent of known global lithium resources, but are coming back in favour thanks to the emerging clean tech economy and the demand for a dependable supply of lithium.
Lithium in pegmatites is most commonly found in the mineral spodumene, but also may be present in petalite, lepidolite, amblygonite and eucryptite.
In Canada, the James Bay area of Quebec is known for its pegmatite deposits. Tantalum, beryllium, caesium rare earths are among the elements that can be recovered from lithium ore deposits such as LCT pegmatites, making the economics more attractive.
Lithium sources in Quebec
The Pressiac-Lamotte pegmatite in the Abitibi region is enriched in beryllium and lithium, the largest of which is the Quebec Lithium deposit with a total Measured and Indicated mineral resource of 46.6 Mt grading 1.19% LiO2 (source: canadalithium.com); the project has been developed by Canada Lithium Corp. and is currently in commissioning.
In the James Bay territory in Northern Quebec, Nemaska Lithium is developing the Whabouchi lithium pegmatire deposit, with a total Measured and Indicated mineral resource 25.079 Mt grading 1.54 % LiO2 and 0.0140 % Be (source: nemaskalithium.com).
Critical Elements Corp. is developing the Rose-Pivert lithium-tantalum project located in the southern part of the Middle and Lower Eastmain Greenstone Belt; Indicated mineral resources currently stand at 26.5 Mt grading 0.98% LiO2 (source: cecorp.ca).
Galaxy Resources Ltd.'s James Bay lithium-spodumene project, which is at the mining feasibility study stage, has a NI 43-101 compliant mineral resource of 11.75 Mt grading 1.30% LiO2 in the Indicated category, with a further 10.47 Mt grading 1.20% LiO2 in the Inferred category (source: galaxyresources.com.au).
Glen Eagle Resources owns the Authier pegmatite deposit in the Abitibi region, with 2.244 Mt grading 0.95% LiO2 in the Measured mineral resources category, and 5.431 Mt grading 0.97% LiO2 in the Inferred category (source: gleneagleresources.com).
Perilya Ltd.'s Moblan-West lithium deposit located in the James Bay Terriroty is estimated to have 5.34 Mt grading 1.51% LiO2 in the Indicated mineral resources category (source: perilya.com.au).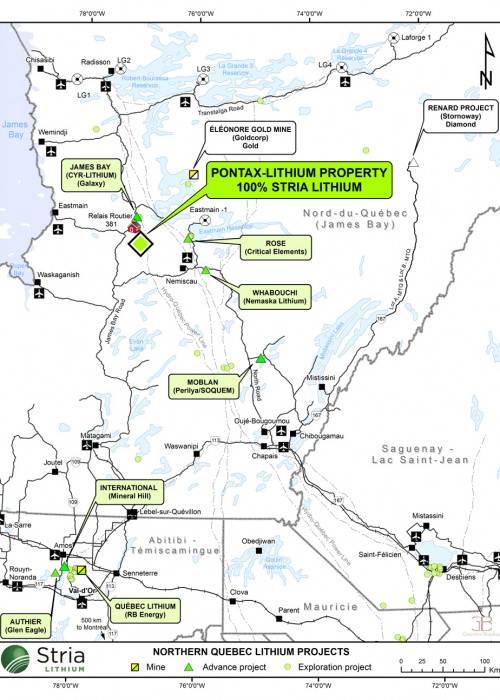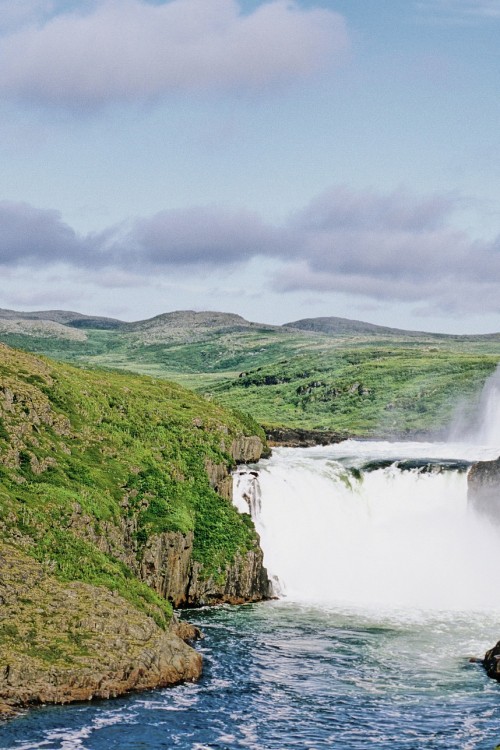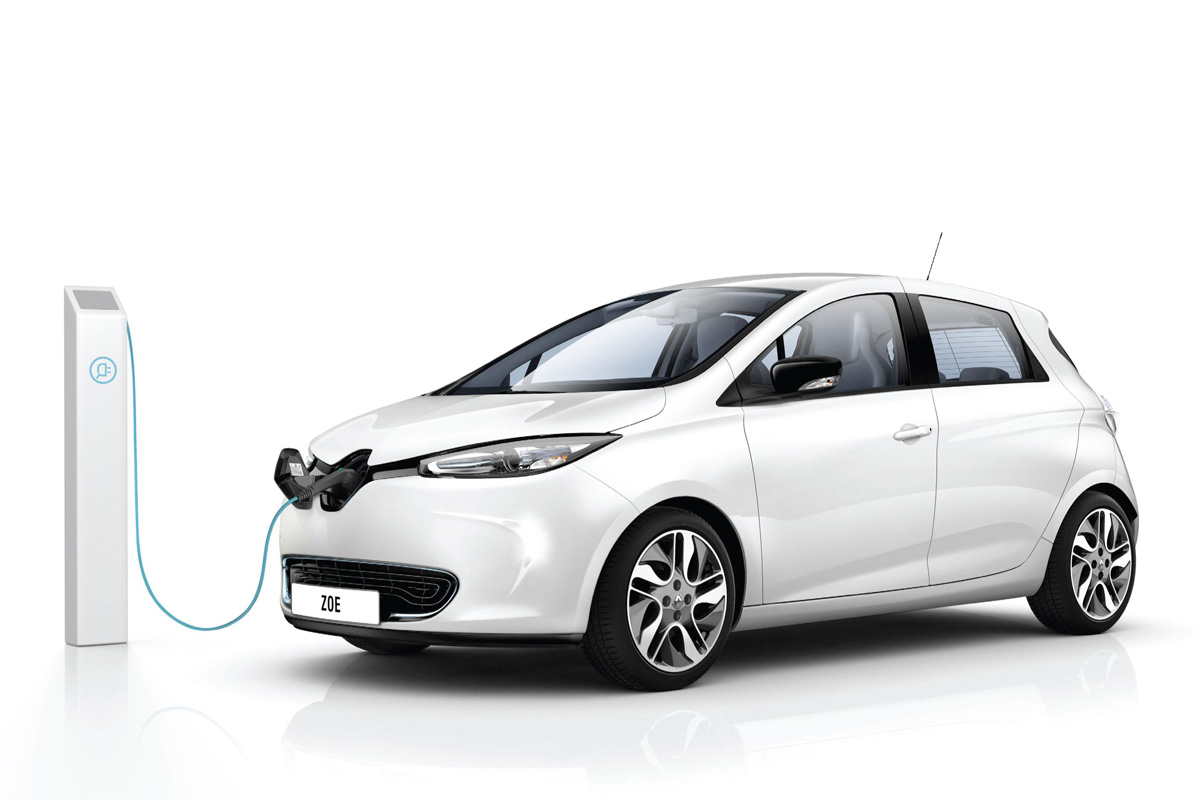 Supply and Security
Demand for lithium carbonate is forecast to exceed global supply by 2025 unless capacity is tripled beginning in 2015 (Source: Critical Materials Strategy – U.S. Department of Energy, 2010).
Identified lithium resources worldwide total about 40 million tonnes, but only about 13 million tonnes are considered economically viable. Leading the Top 5 list of countries with economic reserves are Chile, with 7.5 million tonnes, China, with 3.5 million, Australia, one million, Argentina, 850,000 tonnes, and Brazil, 46,000. (Source: USGS, Mineral Commodity Summaries, January 2013).
Although lithium markets vary by location, global end-use markets are estimated as follows: ceramics and glass, 30 per cent; batteries, 22 per cent; lubricating greases, 11 per cent; air treatment, 4 per cent ; metallurgical, 4 per cent; polymers, 3 per cent; pharmaceuticals, 2 per cent; primary aluminum production, 1 per cent; and other uses, 23 per cent. It is interesting to note that lithium use in rechargeable batteries increased from zero in 1991 to 80 per cent of the market share in 2007.
.
While lithium batteries already enjoy a sizeable market, powering laptop computers, cordless heavy-duty power tools and hand-held electronic devices, the USGS says an even greater market could exist for lithium as a component of electric and hybrid vehicle batteries and for alternative energy production. Research companies forecast that due to innovations in the ways in which lithium-ion batteries are made, the price per kilowatt hour could drop from $500 to less than $200 by 2020, making electric vehicles even more desirable.
According to the USGS, it would take 1.4-3.0 kilograms of lithium equivalent (7.5 to 16 kilograms of lithium carbonate) to support a 40-mile trip (64    kilometres) in an electric vehicle before requiring recharge.
With the focus on Li-ion batteries in vehicles and lithium consumption in all categories expected to keep pace with the 10-per-cent annual growth experienced in 2012, production will need to be ramped up worldwide. Already, with demand squeezing supply, the major brine and mineral-based lithium producers are increasing their prices, making hard-rock mining a viable business once again.
Unlike commodities such as gold, lithium it is not traded on the public market and is sold directly to end use markets for a negotiated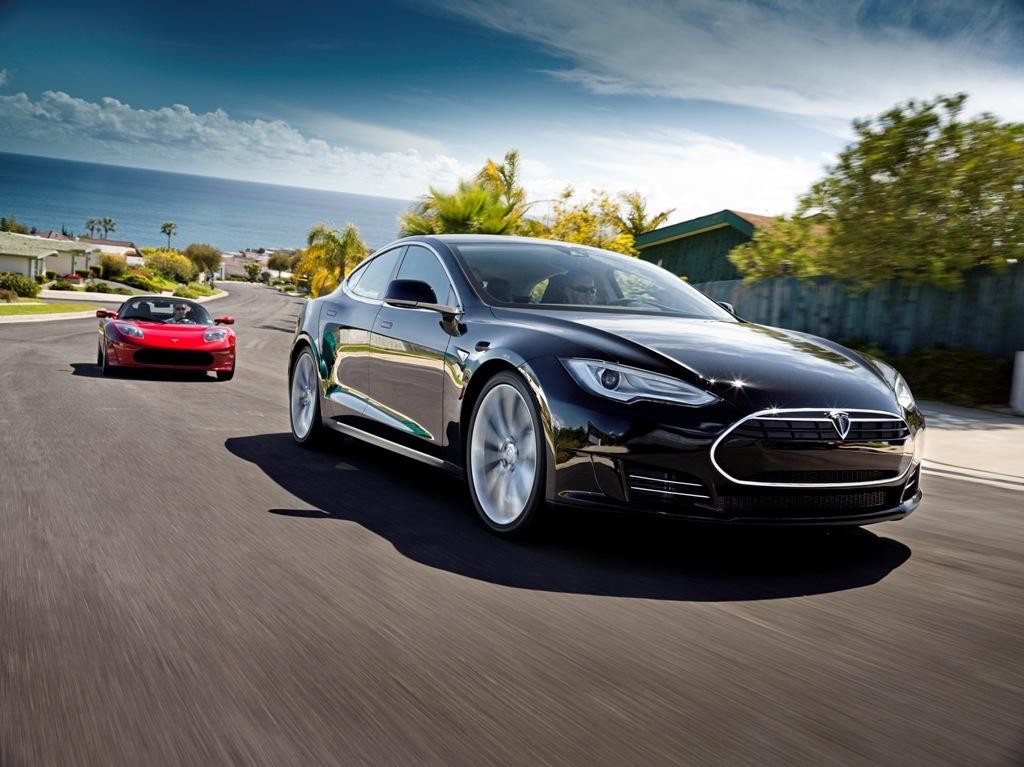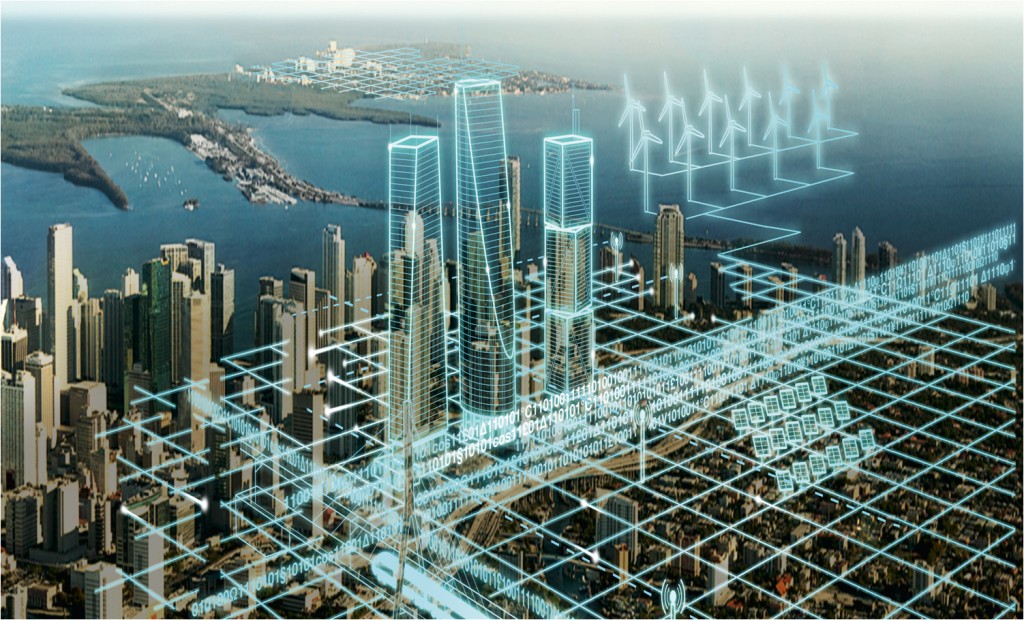 price. This makes price data difficult to confirm, but some recent deals have put battery-grade lithium carbonate at $6,600 a tonne. With the race on to emerge as the leader in the clean tech economy, and production currently controlled by only a handful of large companies, mostly in China and Chile, security of supply has become a concern both for governments and for companies in the technology and automotive sectors. For example, U.S.-based electric vehicle maker Tesla is considering building the world's biggest lithium-ion battery factory in order to ensure it has the supply it needs for its business.
Lithium supply security has become a top priority for all technology-related companies, especially in Asia. As a result, strategic alliances and joint ventures are being established with lithium exploration companies worldwide to ensure a reliable, diversified supply of lithium for battery suppliers and vehicle manufacturers.
Stria, through a business plan combining strategic alliances and property acquisition, aims to be among an elite group of Canadian producers helping to drive the clean tech economy through the provision of a dependable supply of "home-grown" lithium carbonate.