On May 2, 2023, Stria Lithium announced it had successfully secured an option to acquire 100% ownership of two exciting mineral properties close to its Pontax Central project in the lithium-rich Eeyou Istchee James Bay Territory of Québec, Canada.
These two newly secured properties — collectively called Stria Pontax II — include 104 individual claims totalling 5,535 hectares (55 square kilometres), more than doubling the area of Stria's established resource holdings in the region.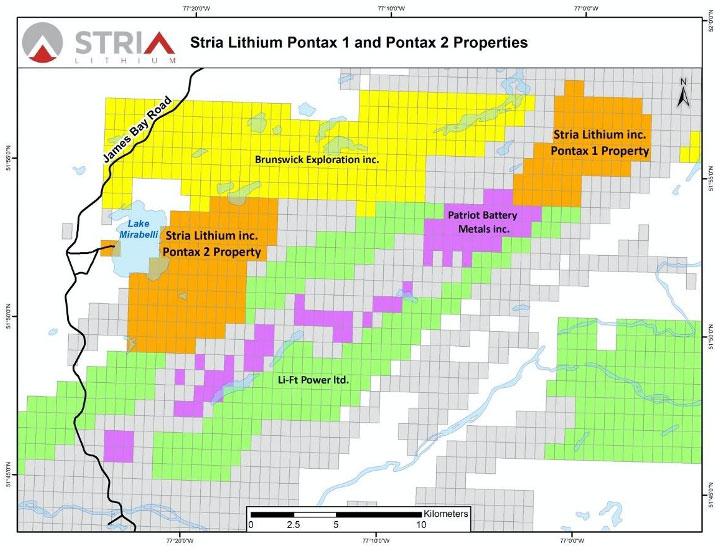 The region, known as the Canadian "Lithium Triangle," is one of only a few known sources of lithium available for hard rock mining in North America, and Pontax II sits in a highly active prospective area of that zone known generally as Pontax.
More specifically, Pontax II is on strike with Stria's Pontax Central project located along the highly prospective Chambois Greenstone Belt of spodumene-bearing pegmatites.
Pontax II is also surrounded by other significant plays — for example, it is just west of the Patriot Battery Metals (PMET.V) Pontax project; just south of Brunswick Exploration (BRW.V); and close to the Némiscau-LaGrande boundary zone in a geological environment similar to the nearby Allkem James Bay Lithium project[1] with a published Mineral Reserve Estimate of 40.3Mt at 1.4% Li2O.
Stria's successful 100% optioning of Pontax II represents an exciting leap forward in the company's strategic plan to expand its reserves in the area, building on the positive results of the recent winter drilling program at Pontax Central. Those results to date confirm the potentiality of the deposit to host significantly wide and rich spodumene dykes at depth.
Pontax II is largely under a shallow glacial cover and vegetation which blankets most of the region. This can be readily penetrated by modern geophysics using magnetics and LiDAR to locate and target underlying pegmatites, as was successfully conducted at Pontax Central. Exploration of the new property for lithium deposits will also be significantly assisted by previous sampling (by other parties) of the same claims in search of gold.
Like Stria's Pontax Central property, Pontax II enjoys several critical advantages of accessibility uncommon in this relatively remote area of northern Quebec – namely, all of Stria's recently secured claims are close to the major paved highway connecting the James Bay region to Quebec's industrial and urban areas to the south. They are also in proximity to an industrial powerline and commercial accommodation.
The proximity of all of Stria's properties also allows the company to capitalize on its experience, expertise, and resources from Pontax Central, creating economies of scale and opportunities to expedite exploration and development at all of Stria's rapidly expanding assets in the area.
Finally, the development of Stria's Pontax lithium properties in Quebec is in alignment with the stated ambitions of governments in Canada and the U.S which are aggressively supporting the growth of a North American lithium industry to power the green energy revolution and mandated shift to electric vehicles. This presents the industry and its investors with a rare, if not unprecedented, opportunity for equity growth well into the next decade and beyond.
At Pontax II, as in all of Stria's operations, the company is committed to exceeding industry's environmental, social and governance standards. A critical part of that commitment is forging meaningful, enduring and mutually beneficial relationships with the James Bay Cree Nation (Eeyouch), and engaging openly and respectfully as neighbours and collaborators in this exciting project that has the potential to create lasting jobs and prosperity for Eeyou Istchee and its people.