Stria's Pontax II project consists of 128 individual claims totalling 6811 hectares (68 square kilometres) on strike with Pontax central along the prospective Chamois Greenstone Belt hosting spodumene pegmatites.
Stria's successful 100% optioning of Pontax II represents an exciting leap forward in the company's strategic plan to expand its reserves in the area, building on the positive results of the recent winter drilling program at Pontax Central. Those results to date confirm the potentiality of the deposit to host significantly wide and rich spodumene dykes at depth. The project was a result of a land combination of 3 distinct claim holders completed in June 2023.
Pontax II is largely under a shallow glacial cover and vegetation which blankets most of the region. This can be readily penetrated by modern geophysics using magnetics and LiDAR to locate and target underlying pegmatites, as was successfully conducted at Pontax Central.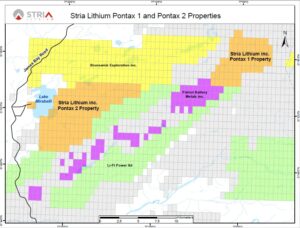 Exploration to date of the new property resulted in assays of highly anomalous tantalum oxides throughout the property. Tantalum oxides (tantalite, columbotantalite, wodginite and micronite) are a class of mineral that almost exclusively form in lithium bearing pegmatite (or LCT pegmatite), such as those currently being evaluated at the nearby Pontax-Central occurrence (Stria Lithium under option by Cygnus (Avenir) Metals), as well as the James Bay Lithium project (formerly Cyr Lithium by Allken Mining), the Rose project (Critical Element Lithium Corporation) or the Wabouchi mine (Némaska Lithium).
A total of 5950 tantalum oxide grains were observed, for an average of 156 grains per samples. As a comparative basis, a regional survey in the same area conducted by the Ministère de l'Énergie et des Ressources Naturelles du Québec, processed using the same technology, yielded an average count of 36 grains per samples, meaning the average sample from Pontax-II stands at the 97.6 centile of the regional population. Samples from Pontax includes tantalum oxide counts up to 797 grains, the highest count ever recorded by the laboratory. The high counts samples are clustered into two distinct kilometer-scale groups (figure 1), suggestive of two distinct sources. As these counts are not down-ice from the Pontax-Lithium occurrence, originating from this occurrence is ruled-out. As per comparison, somewhat smaller isolated counts from the MERNQ survey were at the origin of Li-FT Power' Pontax and Rupert project, where the relation between tantalum dispersion and lithium sources was confirmed (figure 2). Similarly, an orientation till survey conducted at Stria's Pontax-Lithium occurrence by Cygnus Metal highlighted a dispersion of similar size and intensity directly adjacent to the deposit.
Figure 1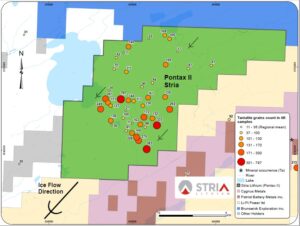 Figure 2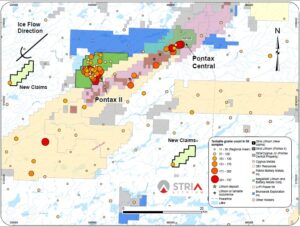 Like Stria's Pontax Central property, Pontax II enjoys several critical advantages of accessibility uncommon in this relatively remote area of northern Quebec – namely, all of Stria's recently secured claims are close to the major paved highway connecting the James Bay region to Quebec's industrial and urban areas to the south. They are also in proximity to an industrial powerline and commercial accommodation.
The proximity of all of Stria's properties also allows the company to capitalize on its experience, expertise, and resources from Pontax Central, creating economies of scale and opportunities to expedite exploration and development at all of Stria's rapidly expanding assets in the area.
Finally, the development of Stria's Pontax lithium properties in Quebec is in alignment with the stated ambitions of governments in Canada and the U.S which are aggressively supporting the growth of a North American lithium industry to power the green energy revolution and mandated shift to electric vehicles. This presents the industry and its investors with a rare, if not unprecedented, opportunity for equity growth well into the next decade and beyond.
At Pontax II, as in all of Stria's operations, the company is committed to exceeding industry's environmental, social and governance standards. A critical part of that commitment is forging meaningful, enduring and mutually beneficial relationships with the James Bay Cree Nation (Eeyouch), and engaging openly and respectfully as neighbours and collaborators in this exciting project that has the potential to create lasting jobs and prosperity for Eeyou Istchee and its people.
Option payments for the acquisition of Pontax II are graduated in two phases and being financed from Stria's cash reserves.